Are you surprised?
We've heard story after story of Russian/Chinese/North Korean interference in US elections. And you're probably tired of it.
We've already had plenty of meddling with our Coronavirus vaccine research from the same players.
US officials have "seen Iran sending spoofed emails designed to intimidate voters, incite social unrest and damage President Trump." - John Ratcliffe, US Director of National Intelligence
We simply don't know what to believe at times. But in this case, it's bi-partisan. Yep, I said it!
"It was clear to me that the intent of Iran in this case and Russia in many more cases is to basically undermine confidence in our elections. - Senator Chuck Schumer
Ok, so there's something there for both sides.
Now, back to the issues:
Iran has stolen voter registration information, and now they're using it to send Phishing emails to votes.
Some of these Phishes are fraudulent voter registration emails (see below). Every person in this country wants his or her vote to count, especially this year. That's exactly why these attackers are gaining traction with these Phishes.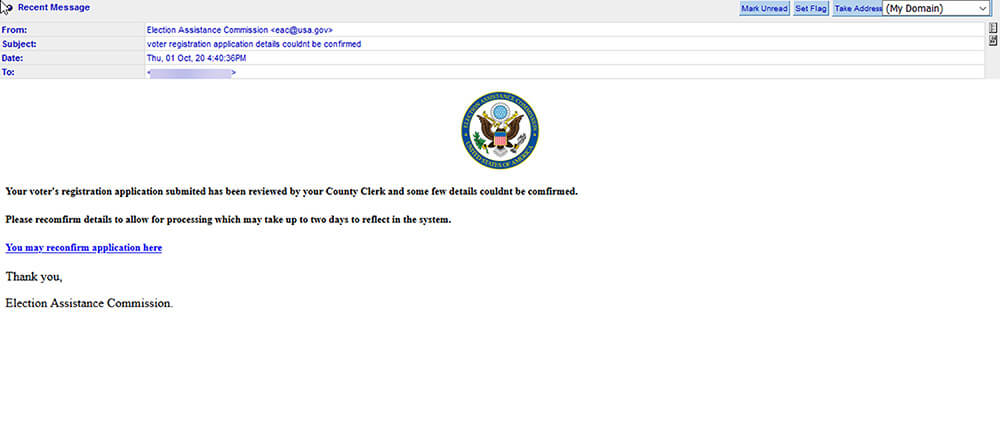 Other emails include a video on how to submit fake ballots. Fortunately, this one has been debunked by experts.
Regardless of the cybercriminals' objectives, these attacks cause confusion at an already chaotic time.
A spokesman for Iran's mission to the United Nations denied Iran had sought to meddle in the U.S. election.
And in case you're wondering, Iran does not take credit for these attacks.
The good news is that